Carpet Chemist's Story
Carpet Chemist's Story
The Carpet Chemist was founded in 2017 by Brandon Cerrito as a way to fill a void in the marketplace. Most carpet cleaning companies are only equipped to clean carpets, but The Carpet Chemist offers a range of in-demand niche services, including carpet stretching and carpet dyeing, making it consumers' go-to resource for virtually any carpet need. The Carpet Chemist is leveraging it's unique and lucrative point of differentiation to grow steadily and strategically in markets across the country through a turnkey franchise operation designed to scale quickly and effectively.
5 reasons to buy
Carpet Chemist Franchise
Unmatched Consumer Offering
Most carpet cleaning franchises focus exclusively on carpet cleaning, but The Carpet Chemist offers a comprehensive range of services, including cleaning, stretching, dyeing and repair for both commercial and residential carpets, rugs and upholstery, making it the go-to, top-of-mind flooring resource for consumers.
Low Costs
Many franchises in the category cost hundreds of thousands of dollars to buy into, and that's just the startup costs. Real estate, materials, utilities and staff can raise the overhead substantially. The Carpet Chemist is a uniquely low-cost alternative, with startup costs ranging from just $79,000 to $109,000, which includes everything the franchise owner needs to successfully run and scale their business. The Carpet Chemist's low startup costs and overhead allow franchise owners to quickly turn a profit and expand their business.
Ongoing Training and Support
The Carpet Chemist provides all new franchise owners with a comprehensive 10-day training program, where they will learn everything they need to know to start servicing clients. But unlike with other brands, the training doesn't end at the grand opening. The Carpet Chemist regularly adds new training videos and educational resources so franchisees can continue to stay on the cutting edge. Plus, the franchise leverages its network of talented franchise owners to share ideas, support and best practices, so no franchise owner is left to run their business alone.
Unparalleled Corporate Experience
For more than 10 years, The Carpet Chemist has seen and fixed every imaginable problem. Franchise owners are given the playbook.
Sales and Marketing Support
The Carpet Chemist mastered a blend of digital and traditional marketing in its home market and has refined that method to work for franchise owners in every market. The brand also provides cutting-edge sales technology and hands-on training to help franchise owners become elite carpet-solutions salespeople.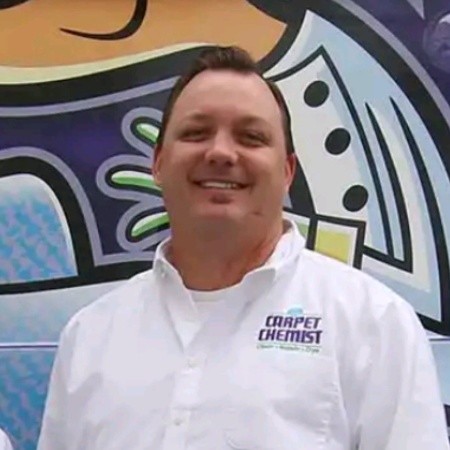 Meet Brandon Cerrito
Founder/CEO of The Carpet Chemist
Created out of necessity to fill a void in the marketplace, The Carpet Chemist was founded in 2017 by Brandon Cerrito. As an industry leader of 20 years, Brandon and wife Tonya created The Carpet Chemist as a franchise model to teach others unique skills and give them the a blueprint for success.
| | |
| --- | --- |
| Agreement Terms | 10 Years |
| Franchise fee | $25,000 |
| Estimated Total Investment: | $77,000 – $109,000 |
| Royalty: | 8% |
Where Carpet Chemist is growing